About
Otto's Sausage Kitchen has been a Woodstock neighborhood landmark since 1929...
In 1890, a sausage maker was born in Germany. His name was Otto Eichentopf. When he immigrated to America at the age of twenty-one, he could not have foreseen that, 120 years and five generations later, his small family business would grow to become nationally known.
Otto's Meat Market was first established in Aberdeen, Washington where Otto settled before sending for Selma, his old friend from Germany. Otto and Selma soon married and had a son, Edwin. By 1921, the Eichentopf's were on their way to Portland, Oregon, moving Otto's Meat Market to the Woodstock neighborhood. The market changed locations one last time in 1936 when it moved to its current home at 4138 Woodstock. Moreland Market, run with the help of Mr. and Mrs. Bronleewee, served as the front shop. In the back of the store, Otto and Edwin were busy making sausages like the ones sold at Otto's today.
Edwin would grow up to continue his father's traditions. Though he left Oregon for Germany in 1945 to fight in World War II, he returned home from the war to take over the family business with his wife, Eleanor. Edwin and Eleanor's son, Jerry, worked with his father just as Edwin had worked with his. In 1976, Jerry married Gretchen and, soon, this next generation of Eichentopf's was managing the store. Gretchen revamped the retail section, which has been growing ever since.
Jerry and Gretchen still keep Otto's running smoothly along with their three daughters, Heidi, Christie, and Bereka. Heidi's husband, Justin, and Christie's husband, Kevin, also help to run Otto's along with the 5th generation children, Tanner, Krystin, Mackenzie, Waylon, and Elanora. These three generations all take an active role in Otto's daily activities and strive to make each customer feel like a part of Otto's story.
The art of sausage making has been passed down through the family for four generations and will soon be passed to the fifth. Over forty kinds of sausages are made on site, including Otto's own recipes brought all the way from Germany. The smokehouse, built by Otto himself, has well-seasoned walls that give the smoked sausages and meats that one of a kind distinction that can only be Otto's.
Today, Otto's has received national recognition from publications like Roadfood, the Oregonian, and Gourmet Magazine. Otto's has even been featured on Diners, Drive-Ins, and Dives on the the Food Network.
Otto's Sausage Kitchen is truly one of a kind. Let us show you what we are all about: fun, grilling, family, and friends.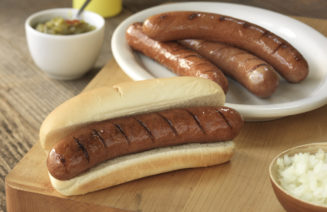 A combination of high quality beef, pork, and spices stuffed into natural casing and smoked in our smokehouses using alder wood.
View Product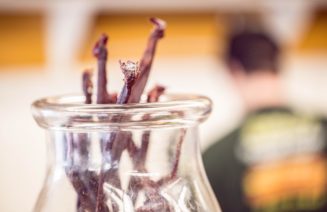 This is not your ordinary jerky. Cured, seasoned with pepper and smoked until dry. Full of flavor to add to your chewing delight.
View Product